Ein Konzert von Dr. Woo's Rock'n'Roll Circus
Hallo, wir sind Dr. Woo's Rock'n'Roll Circus.
Wir erzählen in unserer Show "A Tribute To The History Of Rock" die Geschichte der Rockmusik so, wie sie sein soll. Wild, aufregend und vor allem musikalisch. 50 Songs in 120 Minuten werden gemasht, verknüpft und vollkommen neu präsentiert.
Warum wir hier mitmachen? Weil wir einen kleinen Beitrag leisten wollen, den menschlichen Grundgedanken, der auch in der Rockmusik tief verankert ist, weiterzutragen. Imagine all the people live in peace.
Unser Dankeschön an Dich für Deine Spende:
Wir spielen auf einer Privatfeier/Firmenfeier/Grillfest/Open-Air-Fest oder wo auch immer unsere Show. Da wir eine Rockband sind, sollte es schon ein wenig lauter sein dürfen, und Platz zum rocken und tanzen braucht das Publikum auch.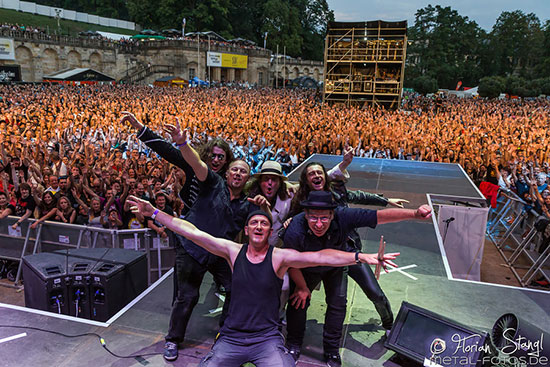 Wer: Dr. Woo´s Rock´n´Roll Circus
Was: A Tribute To The History Of Rock – 2,5 Stunden Live-Show
Wo: Raum Nürnberg/Fürth/Erlangen
Zeitraum: Ab Sommer 2016
Umfang: 2,5 Stunden
Wie oft: 1 Mal
Spendenwert: 600 €
Rahmenbedingungen: Platz für eine 6köpfige Rockband (ca 6x3m minimum ), 3 x 16 A Schuko Strom
Mehr über uns: www.rocknroll-circus.de
Fotocredits: Florian Stangl (Livebild), Iris Klesper (Studiobild)
Du möchtest für die Unterstützung von Geflüchteten spenden
und würdest Dich über ein Konzert von Dr. Woo's Rock'n'Roll Circus als Dankeschön freuen?
Wichtig: Alle hier beteiligten Künstlerinnen und Künstler sind mit großem Engagement bei diesem Projekt dabei. Es kann dennoch passieren, dass eine Künstlerin, ein Künstler oder eine Gruppe eine Anfrage auch mal ablehnen muss. Das kann ganz verschiedene Gründe haben. Wir bitten Dich, das zu respektieren. Sollte das gerade in Deinem Falle passieren, dann melde Dich gerne bei uns. Gemeinsam suchen wir nach möglichen anderen Künstlerinnen, Künstlern oder Gruppen.