Deprecated: Function get_magic_quotes_gpc() is deprecated in /customers/e/9/2/artistsforrefugees.de/httpd.www/wp-includes/formatting.php on line 2692
"Text und Lied von zweien, die wissen, was sie tun"
von Theobald Fuchs und Michael Ströll
Servus und habe die Ehre. Wir sind: Michael Ströll und Theobald O.J. Fuchs
Michael singt und spielt auf der Gitarre, weil er das schon seit vielen Jahren mit großem Erfolg tut, u.a. mit Buddy & the Huddle und The GoHo Hobos. Theobald schreibt seit 20 Jahren Geschichten, Glossen und Witze, je nachdem für das TITANIC-Magazin, den CURT oder die Fürther Nachrichten.
Und deshalb machen wir hier mit: Gute Idee, sinnvolle Aktion – nachdem die Geflohenen ein Dach über dem Kopf haben und satt sind, sollte sich auch jemand um die Psyche dieser oft schrecklich geschundenen Menschen kümmern.
Unser Dankeschön für Eure Spenden:
Wir werden uns irrsinnig anstrengen, um unsere bescheidenen Werke so gut und schön wie möglich auf die Bühne hinzuzimmern. Jedes einzelne.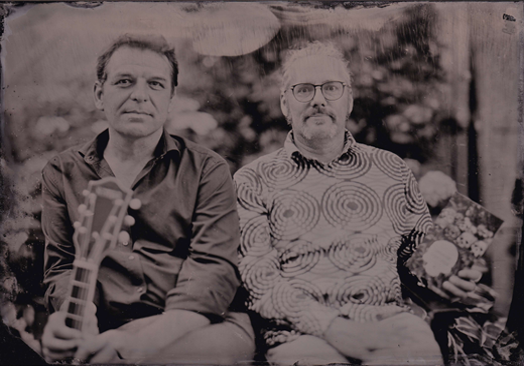 Wer: Theobald O.J. Fuchs und Michael Ströll
Was: Musik-Literatur-Salat. Michael spielt auf seiner Gitarre ein schönes Lied, danach liest Theo eine schöne Geschichte vor, während sich Michael das nächste Stück aus seiner Sammlung wählt. Dasselbe spielt er, woraufhin Theo den nächsten Text hervorzaubert, uns so weiter und so weiter, bis die Zuhörer satt sind. Oder pleite – denn für jede Runde Text und Lied muss bezahlt werden.
Wo: privat, in Galerien, auf Bühnen, in Clubs etc.
Zeitraum: nach Absprache
Umfang: Solange das Kleingeld reicht. Denn wir spielen so lange das Publikum spendet. Nach jedem Set lassen wir den Spendenhut kreisen und wenn jeder aus dem Publikum mindestens einen Euro spendet, geht es weiter mit dem nächsten Set, dann kreist der Hut erneut und so weiter und weiter …
Wie oft: Die Premiere am 21.8.2016 in der Galerie Bernsteinzimmer hat dem Publikum und uns großen Spaß gemacht. Daher bieten wir gerne eine Neuauflage an. Fragt uns einfach an!
Spendenwert: pro gespieltem Lied plus pro gelesenem Text mindestens ein Euro von jeder Person aus dem Publikum. Alle Spenden gehen direkt an diese Projekte.
Special: Notfalls – aber wirklich nur notfalls – erzählt einer von uns eine Geschichte aus seiner Jugend.
Mit herzlichem Dank an Peter Kunz für unser schönes Titelfoto!
Rückblick: Auftritt in der Galerie Bernsteinzimmer am 21. August 2016
Am 21. August 2016 erlasen und erspielten Theo und Michael bereits das erste Mal eine Menge Spenden für geflüchtete Kinder und Jugendliche.
Theo las eine Geschichte vor, Michael spielte einen Song und nach jedem Set spendeteten die Gäste mindestens je einen Euro. Dann ging es weiter mit dem nächsten Set und so fort. So kam es, dass die beiden rund zwei Stunden lang lasen und spielten, während das Publikum Runde um Runde spendete. Ein schöner, dreistelliger Betrag befand sich am Ende des Abends im Spendentopf. Diese Gelder gingen direkt an diese Hilfsprojekte für geflüchtete Kinder und Jugendliche.7
Ein herzliches Dankeschön gilt der Galerie Bernsteinzimmer in Nürnberg, die als Gastgeberin die Räume stellte, sowie Katarina für die vorzügliche Bewirtung.
Du möchtest für die Unterstützung von Geflüchteten spenden
und würdest Dich über Lesung & Konzert von Theobald und Michael als Dankeschön freuen?
Wichtig: Alle hier beteiligten Künstlerinnen und Künstler sind mit großem Engagement bei diesem Projekt dabei. Es kann dennoch passieren, dass eine Künstlerin, ein Künstler oder eine Gruppe eine Anfrage auch mal ablehnen muss. Das kann ganz verschiedene Gründe haben. Wir bitten Dich, das zu respektieren. Sollte das gerade in Deinem Falle passieren, dann melde Dich gerne bei uns. Gemeinsam suchen wir nach möglichen anderen Künstlerinnen, Künstlern oder Gruppen.